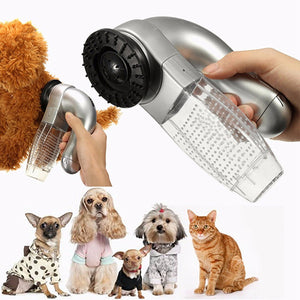 PET SMART PORTABLE GROOMER
Regular price $40.00 $18.99 Sale
PET SMART CLEANER
PET LOVERS 😍This is a Safe and Easy to use Pet Vacuum! The Vacuum helps remove pet hair and fur from surfaces such as the carpet, bedding, car seats and even the sofa. It is also gentle to use on your pet. It is the perfect way to keep a clean environment and groom lose hair. Makes a perfect gift for any pet owner! 
Features
Power Source: Battery
Material: ABS Plastic, Rubber
Package Weight: 0.294kg (0.65lb.)
Package Size: 7.87" x 4.72" x 2.76" (20cm x 12cm x 7cm) 
SUMMER SPECIAL:
✔️🔥50% OFF🔥 Only 45 Left
✔️ Free shipping : 2 * Items
✔️ Ship From USA
CUSTOMER GUARANTEE

We want you to be happy and satisfied with Shopfancybrands and your purchases with us. Therefore, we guarantee to offer you 24 hours customer service to better assist you with your time with us.

Should you have any enquiries regarding your purchases,please contact us at Shopfancybrands@gmail.com ! We guarantee that we will do our best to resolve your issue as soon and thoroughly as we can. We want you as our lifelong customer. 

We understand online shopping can sound vague, but we want to let you know that there is absolutely 0 risk of buying and trying things out with shopfancybrands.com. If you have any dissatisfaction of the products, no worries and we will make it right. 

Shopfancybrands.com is a customer and employee driven company. Please help us be the best company as we can be.