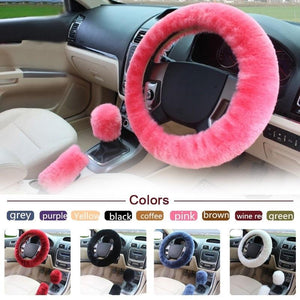 WOOL STEERING WHEEL COVER
Regular price $54.89 $17.89 Sale
Fluffy Car Steering Wheel Cover
Specification:

100% brand new

Warm, Beautiful and Fashion!

Fits most standard steering wheels

Improves the appearance of old or dirty steering wheels

Protects hands from hot and cold extremes

Massage grip makes for a thicker, more comfortable feel

Surface material: wool/cashmere

Matching steering wheel diameter: approx. 36-38cm

9 Colors Optional: Pure white; Red; Pink; Purple (as picture shows)

Easy to install

For the car, especially for high-level cars and others, highly ornamental value, is to decorate your steering wheel sheepskin equipment, helps to reduce fatigue on the way, for you create a comfortable driving environment, reflect unique driving sensation.

Let your car with valuable products and can suck exhaust stains, more comfortable feel, soft texture steady nerves to calm effect.

The best gift for your family, friends, colleagues, led!

Anti-sleep 
Package:
1pc Steering Wheel Cover
1pc Stop Lever Cover
1pc Hand Brake Cover
CUSTOMER GUARANTEE

We want you to be happy and satisfied with Shopfancybrands and your purchases with us. Therefore, we guarantee to offer you 24 hours customer service to better assist you with your time with us.

Should you have any inquiries regarding your purchases,please contact us at Shopfancybrands@gmail.com ! We guarantee that we will do our best to resolve your issue as soon and thoroughly as we can. We want you as our lifelong customer. 

We understand online shopping can sound vague, but we want to let you know that there is absolutely 0 risk of buying and trying things out with shopfancybrands.com. If you have any dissatisfaction of the products, no worries and we will make it right. 

Shopfancybrands.com is a customer and employee driven company. Please help us be the best company as we can be.